Technical Support
Knowing your gear pump
There are many makes of gear pumps and it can be a struggle when yours breaks down. Do you want a repair on your current one or do you want a new one? Making an informed decision can be so much easier when you understand the basics of what a gear pumps is and how it works.
What is a gear pump?
A gear pump uses gears to pump fluid by displacement. They are one of the most common types of pumps used for hydraulic applications. Gear pumps however are also used in chemical installations to pump fluid with a certain viscosity. There are two main types; external gear pumps which use two external spur gears, and internal gear pumps which use an external and an internal spur gear. Gear pumps are fixed displacement, meaning they pump a constant amount of fluid. Some gear pumps can be made to use either as a pump or a motor.
How does it work?
The gears inside your pump rotate and separate, on the intake side of the pump, creating a suction which is filled by oil. The oil is carried by the gears to the discharge side of the pump, where the gears displace the oil. The mechanical clearances are small, on the order of a thousandth of an inch. The tight clearances, along with the speed of the rotation, effectively prevent the oil from leaking backwards. The rigid design of the gears and housing allow for very large range of pressure and the ability to pump highly vicious fluids.
Repair?
Although anything can be repaired, due to the high pricing on parts by OEM's and competitive pricing of pumps, gear pumps and motors are not repairable in a cost effective manner. This can be the same for some obsolete pumps if a cheap replacement can be found.
Any reputable hydraulics company will advise you of this on first contact.
So how do I go about getting a new one?
The information most companies will ask you for is as follows:
Make
Model / Serial Number
However, if you do not know this information do not panic - there is a way you can spec up your own gear pump, here is a rough guide to what you will need to know:
Shaft type / Size (e.g. splined or keyed, how many splines)
Mounting Flange Type / Dimensions (Bolt hole diameter & spigot dimensions)
Port Type / Dimensions (e.g. Pitch centre diameter of port fittings (PCDs))
Flow requirement at 1450 RPM
Working Pressure: i.e. Bar or PSI
Multiple or Single Pump
Port Inlets / Outlets
If you are unable to measure this yourself a reputable hydraulics company should be able to do this for you.
Now you are armed with all the information you need to know you will be ready for your next breakdown. Good luck!!
Article written by Becky Goodwin, Hydraulic Pumps (UK) Ltd
We collect, strip, assess and quote free of charge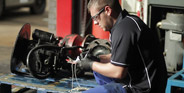 Request a Brochure
Enter your email address to receive our pdf brochure.