Technical Support
Oil systems condition monitoring, clean ups and flushing/pressure testing
Industrial Marine Hydraulics and Hydraulic Pumps (UK) Ltd work together on various projects. Their engineering technical experience is exceptional and we have recommend their onsite services to many customers. Here, Mike Jeffers one of the Directors has written some information regarding oil systems. For more information on IMH and the services they offer, visit: www.imh-uk.com
Existing Systems
Whether the oil system is existing and in use or being installed, oil cleanliness is paramount to ensure component reliability, performance and long life. We have mobile on site and off site oil lab sampling facilities which can be provided on a routine basis to check and record the systems oil condition to ensure acceptable. This will also pick up any degradation or trend in oil condition which may then lead to other necessary system filtration investigations to ensure compatibility and suitability for the system. Possible modifications to systems to improve filtration can be based on the recorded regular sample analysis. Constant system oil cleanliness monitoring can also be arranged by installing approved sampling devices permanently into the systems. These can redord/transport information of system cleanliness to location of choice via control system PLC/modem, etc.
System Clean Up & Reasons
This can be carried out by using any one of our selection of modular and free standing flushing/pressure test rigs, ranging from 2 lpm to 2500 lpm. The flushing rig will be sized according to the system needs, as well as being compatible with various system fluids, ranging from standard mineral oils to fire retardant fluids, environmentally safe fluids and many others.
This flushing procedure may be due to the need to flush and clean newly installed pipe or cleaning up a contaminated system. This could be due to ingress of other fluids, such as water, as well as the need to remove debris/particulate from any component failure, for example a pump/hydraulic motor, hydraulic cylinder, etc or ingress of environment contamination through system breathers, shaft seals, cylinders seals, etc.
Pressure Testing
This can be carried out to recertify a system to cover safe working pressure and margin of safety. Normally used to test any newly installed pipework prior to flushing and commissioning. The majority of our flushing rigs have a pressure test facility as well.

We collect, strip, assess and quote free of charge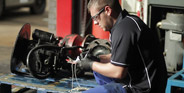 Request a Brochure
Enter your email address to receive our pdf brochure.