Technical Support
The Different types of Hydraulic Pumps
There are so many different types of pumps & so many different types of Hydraulic Pumps - sometimes it's confusing to know what is hydraulic or not!!
The various types of pumps available include:
Hand pumps
Vacuum pumps
Screw pumps
Sump pumps
Water pumps
Centrifugal pumps
Reciprocal pumps
And many more...
Common types of hydraulic pumps to hydraulic machinery applications are:
Gear Pumps:
These are generally cheap, durable & simple. They are less efficient, because they are working at a constant displacement, and mainly suitable for pressures below 200 bar (3000 psi). Best usage is on simple hydraulic systems due to their efficiency. Ideally these should not be used above 180 bars where normal working pressure should be below 120 bars.
Vane Pumps:
Again these are generally cheap and simple, reliable (especially in gerotor form). They are good for higher-flow low-pressure output and have higher efficiencies than gear pumps. Again these are generally used for mid pressures up to 180 bars.
Axial Piston Pumps:
Many are designed with a variable displacement mechanism which allows you to vary output flow for automatic control of pressure. There are various axial piston pump designs, including swash plate (sometimes referred to as a valve plate pump) and check ball (sometimes referred to as a wobble plate pump). The most common is the swash plate pump. The bent axis principle has the best efficiency of all pumps. Generally working pressure up to 350 bars with a displacement of approximately 1 litre per revolution. The axial piston units with the swash plate principle are easier and more economical to manufacture; the disadvantage is that they are more sensitive to oil contamination.
Radial Piston Pump:
A pump that is normally used for very high pressure at small flows. Pressure up to around 650 bar are normal. Variable displacement is not usually possible.
Gerotor pumps:
These are very special pumps. The efficiency as well as the sound level are very good for such a medium pressure pump. When it comes to repairing the above hydraulic units you will find that piston pumps are more expensive than gear or vane pumps, but provide longer life operating at higher pressure, with difficult fluids and longer continuous duty cycles. Most hydraulic specialists will no longer consider repairing gear pumps but rather replacing them due to cost.
We collect, strip, assess and quote free of charge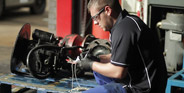 Request a Brochure
Enter your email address to receive our pdf brochure.