Technical Support
The different types of hydraulic fluids:
Hydraulic fluids are a large group of liquids made of many kinds of chemicals. They are used in automobile transmissions, power steering, forklift trucks, brakes, tractors, industrial machinery, all forms of plant machinery etc.
There are many types of hydraulic fluids, of which the most common would be mineral oil, polyaphaolefin and organophosphate ester. Others are based on glycol esters and ethers, castor oil, or silicone.
Environmentally sensitive applications (e.g. farm tractors and marine dredging) may benefit from using biodegradable hydraulic fluids based upon rapeseed (Canola) vegetable oil when there is the risk of an oil spill from a ruptured oil line.
Brake fluid is a subtype of hydraulic fluid with high boiling point and low freezing point.
Some hydraulic fluids have a bland, oily smell and others have no smell; some will burn and some will not burn. Certain hydraulic fluids are produced from crude oil and others are manufactured by many companies.
Because industrial hydraulic systems operate at thousands of PSI and temperatures reaching several hundred degrees Fahrenheit, severe injuries and death can result from component failures and care must always be taken when performing maintenance on hydraulics.
For more technical advice regarding the different types of hydraulic fluids please contact our technical team on 0800 360370.
We collect, strip, assess and quote free of charge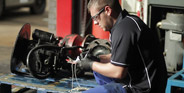 Request a Brochure
Enter your email address to receive our pdf brochure.